TAI CHI – WELL-BEING, BALANCE, ENERGY & HEALTH FOR ALL AGES.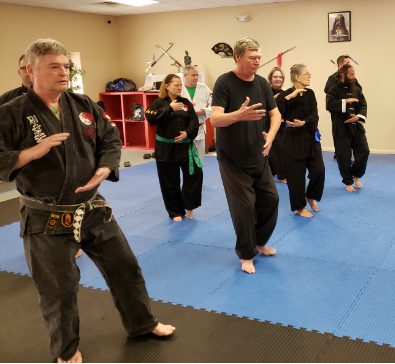 "….. Master Warren was able to make me feel comfortable with the process from the beginning. He does a fantastic job reaching everyone on an individual basis during each class …. " – Paul
Tai Chi Classes Lead to Increased:
Mental Peace
Balanced and Energetic Health
Greater Body Flexibility
Mental Focus and Clarity
Tai Chi creates a peaceful mental space and builds a calm balancing energy. You will feel more flexible and energized physically and mentally more positive and confident.

"….. After trying Tai Chi at three different locations and not being satisfied as I was not getting the feeling I was looking for, I found my place at Pensacola Tai Chi and Kung Fu …. " – Art
"…It can be difficult to get out of your comfort zone, especially when trying new things, but that's not an issue here. Everyone is very encouraging, and willing to work together…" — Lindsey
"…I felt encouraged from the moment I walked in the door. He has a way of explaining tai chi, the moves, the breathing, the purpose, in a way that is simple yet profound." — Louisa

"… After a few weeks of participation, results exceeded my original expectations. My core has strengthened, balance and overall well-being improved…"  — Rhonda
According to the Mayo Clinic
Tai Chi Can Lead To:
Increased aerobic capacity
Increased energy and stamina
Increased flexibility, balance and agility
Increased muscle strength and definition. Some evidence indicates that tai chi also may help:
Enhance quality of sleep
Enhance the immune system
Lower cholesterol levels and blood pressure
Improve joint pain
Improve symptoms of congestive heart failure
Improve overall well-being in older adults
Reduce risk of falls in older adults

"… During the Tai Chi classes, you are able to relax and gain a sense of calmness as your mind & body synergy engulfs you. There is a family & fellowship atmosphere.…"  — Trish
People of all ages practice the slow mindful movements of Tai Chi Chuan.  The most important part is that it is fun to learn, relaxing and energizing to perform and fascinating enough to keep you practicing it for many years of your life. This is what makes it the best possible exercise to carry you through the years of your life.
"..and then I heard about Master Warren's school. This was a turning point in my martial career. He has the most unique teaching style that I have ever encountered. Not only does he teach an entire class, but he takes the time to work with each student on the level that they are currently at…." – Tracy
Keep in mind that Tai Chi Chuan is also translated from Chinese as the Grand Ultimate Fist because it was considered the ultimate fighting art. If you are fan of martial arts you will love it for that reason as well.
© Pensacola Kung Fu & Tai Chi, LLC. All Rights Reserved